MTP Series Switching DC Power Supply
Overview
MTP series High Power DC power supply is a family of DC switching power supplies with wide output power ranging, high output accuracy, high efficiency and low output ripple performance.
The output power of this series of DC power supplies ranges from 3KW to 2MW, and the output voltage ranges from 30V to 1500V, providing users with a complete product selecting scope.

MTP series of power supplies use full - bridge phase - shift soft - switching technology, which makes this series of DC power supplies have up to 88% working efficiency and 20ms transient response time.
This series of DC power supplies has a two-stage conversion circuit structure and dual closed-loop control circuit system to ensure power supply with high stability and good output accuracy.
All the MTP series power supplies have perfect protection functions, which can ensure long-term & reliable operation of the power supply.

The MTP - 0030 - 0200T series is a product with 6KW rated output power in the MTP series power supply family. It uses a 4U 19 - inch standard case and is compatible with power instrumentation system integration requirements.
The output voltage ranges from 0 to 30V and the output current ranges from 0A to 200A, which can meet the testing needs of various power electronics industries, electronic equipment industries, new energy motor industries and power battery industries.



Block Diagram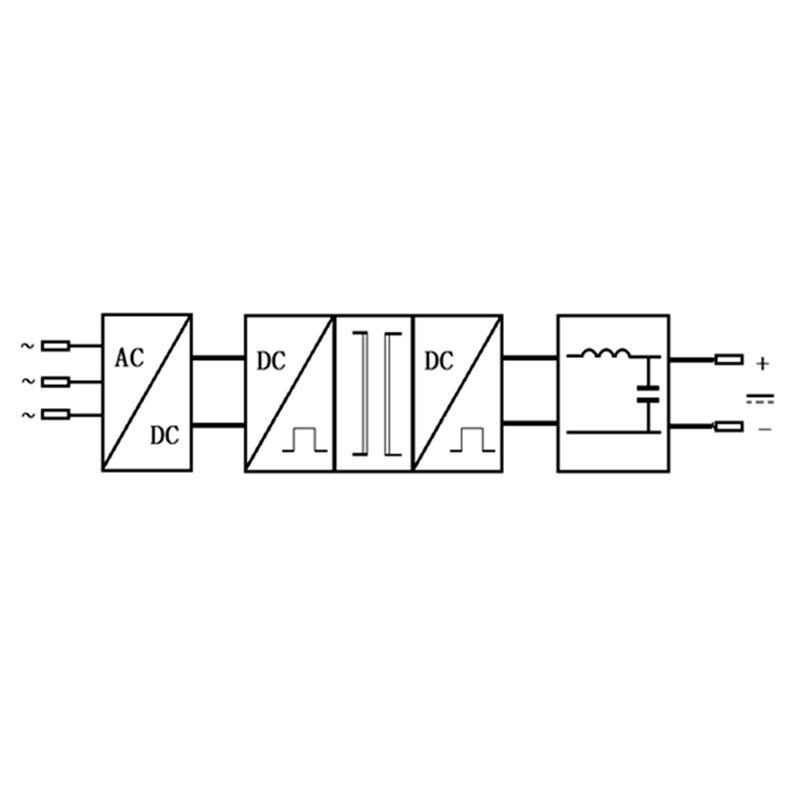 Features
l Power range: 6KW / Voltage range: 0 ~ 30V / Current range: 0 ~ 200A
l Precise voltage and current setting and measurement capabilities.

l Line voltage drop remote sensing & compensation function.

l CV & CC output mode, output voltage and current continuously adjustable in full scale.
l Multi-stage filtering circuit adopted to reduce harmonic interference to the power grid.
l With RS485 communication interface, in line with MODBUS-RTU communication protocol.
l Amorphous high-frequency transformers and potted inductance adopted to give smaller temperature rise and better reliability.
l Isolated input and output for safe operation, the input and output terminals are equipped with safety shielding to ensure the safety of installation.
l OVP, OCP, OTP and short circuit protections etc.
Specifications
Input

Connection mode

Three – phase, four – wire + GND

Voltage

380V±10%

Frequency

50Hz/60Hz±5Hz

Output

Rated power

6 kW

Output voltage adjusting range

0V ~ 30.00 V

Output current adjusting range

0A ~ 200.0 A

Output voltage precision

0.5%FS

Output current precision

0.5%FS

Line regulation

≤0.2%FS

Load regulation

≤0.2%FS

Temperature drift

0.04%FS/℃

Time drift

0.3%FS

Ripple (Vr.m.s.)

≤0.5% F.S (measured @ rated voltage with 80%-100% resistive loading)

Response time

≤10ms (measured @ 10%-90% resistive loading)

Efficiency

≥88% (measured @ 80%-100% resistive loading)

Working ability

Withstand long-term continual working.

Setting & Display

Control mode

Local

Front panel button control

Remote

RS485 communication interface.

In line with MODBUS-RTU standard.

Display mode

LED digital display

Set & Display error

Voltage

0.5%FS

Current

0.5%FS

Display resolution

Voltage

Four-digit display with a minimum resolution of 0.01V

(Ue ≤ 30V)

Four-digit display with a minimum resolution of 0.1V

(30V < Ue < 1000V)

Four-digit display with a minimum resolution of 1V

(Ue ≥ 1000V)

Current

Four-digit display with a minimum resolution of 0.01A

(Ie ≤ 50A)

Four-digit display with a minimum resolution of 0.1A

(50A < Ie < 1000A)

Four-digit display with a minimum resolution of 1A

(Ie ≥ 1000A)

Automatic voltage compensation

≤5V (Ue ≤ 100V)

≤10V (100V < Ue ≤ 300V)

≤15V (300V < Ue ≤ 1000V)

Over-loading ability

Iout≤1.25 Ie, output shutdown after 600s.

Iout≤1.5Ie, output shutdown after 60s.

Iout≤2Ie, output shutdown after 5s

Iout>2Ie, output shutdown immediately.

Protection & Monitoring functions

Output over voltage protection (OVP)

Output over voltage protection value settable.

Power supply automatically cuts off output and alarms when output has over voltage.

Output over current protection (OCP)

Output over current protection value settable.

Power supply automatically cuts off output and alarms when the output has over current.

Over temperature protection (OTP)

Power supply automatically cuts off output and alarms when the internal temperature of the power supply exceeds 85 °C.

Output short-circuit protection

Power supply automatically cuts off output and alarms when the output has short-circuit.

Automatic voltage compensation protection

Output over compensation protection / compensation line reverse-connected protection

Noise

≤60dB

Protection degree

IP20

Cooling method

Forced air cooling

Safety features

Insulation resistance

≥20MΩ

Withstand voltage ability

60s test @ 2000VDC, no flash-over or spark-over.

Grounding inductance resistance

≤100mΩ

Working conditions

Ambient temperature

0℃~45℃

Humidity

10%~90%(non-condensing)

Height

≤2000m

Size (W*H*D) (mm)

500*178*550 (19'' 4U standard chassis)