Chinese LED lamp adjustable lamp reading lamp led incandescent lamp work lamp
Shaoxing Sunshine new generation energy-saving LED Desk Lamps is an energy efficient, low power consumption LED Light source. The lamp is adjustable and dimmable for multiple brightness settings, making them ideal for home and office use. Say goodbye to old incandescent light and faintly illuminated working space, and say hello to this elegantly designed, modern looking and energy-efficient source. Designed to blend naturally into any scene and provide flicker-free and ghost-free lighting that is pleasant and comfortable to your eyes. Even after long hours of use, your eyes will feel less fatigue than with traditional types of lighting. With a slight touch from your finger tips, you can switch through 7 brightness level to fine tune your illumination. This new generation of eco-friendly LED lighting consumes 75% less power than traditional incandescent lights, while providing the same amount of light. This means a smaller electricity bill and a smaller carbon footprint.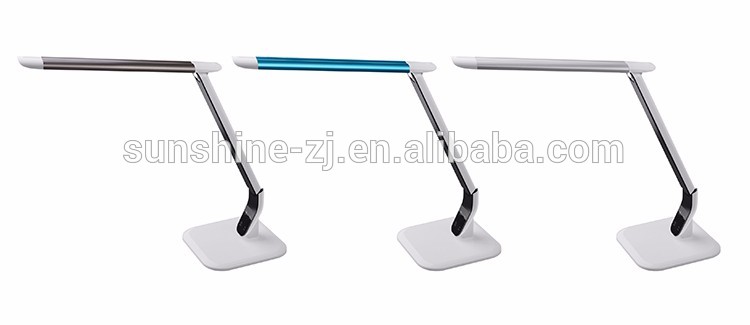 The description of Chinese LED lamp adjustable lamp reading lamp led incandescent lamp work lamp:
* 30,000~50,000 working hours, which is 10 times more than the incandescent lamp and halogen lamp.
* Energy saving, could save 70% energy than traditonal lighting,and money on your power bill with cost effective LED lighting
* Environment friendly, without ultraviolet, mercury-free, the aluminum shell is recycable, without radiation, glare-free.
* Smooth and uniform lighting with no flickering, no dark area and no ghosting to reduce eye fatigue
* Different color temperate and adjustable brightness to allow you to customize your lighting as wish
· Save energy
The advantage of Chinese LED lamp adjustable lamp reading lamp led incandescent lamp work lamp:
Comfortable, flicker-free and ghost-free lighting for reading/work/study; pleasant on the eyes, causes less fatigue
Touch control operation with 7 level of brightness to suit your activities
Energy efficient, costs 75% less energy than incandescent lighting for the same level of brightness
Modern design that will naturally fits in any space; try it with your office, bedroom, or study
LED Desk almp made with a soft, flexible gooseneck and a hard shell plastic base
10W High quality LED night lights, no Flickering, no radiation, no UV. Provided soft and clear lighting to protector your eyes. creating warm and soft atmosphere, ideal for reading, writing, studying, working, etc
2-in1 simple, foldable design to easy carry and adjust to different angles for the comfortable lighting to avoid eye strain. Body made from premium aluminum material, with smooth paint surface, to feel light, durable and anti-scratch.
4-color adjustable / 5-Level Dimmer LED lighting that suits for work or leisure purposes. Regular offline mode can achieve high energy efficiency and safety. Lamp can be controlled by a simple hand touch, Elegant and compact design, much more space-saving and well-organized when charging your devices.
100% Satisfaction Gurantee - 30 days Return & Refund policy WITHOUT hassle; Get the full refund quickly or free replacement if you aren't completely satisfied; Free lifetime technical support and 12-month manufacturer's warranty; FCC, CE and RoHS certified
Design for Eye Protection: Exclusive filer layer ensures soft, comfortable, no flicking, glare-free light, perfect as reading lamp.
Smart touch control for 3-level brightness (reading, relax and sleep mode), and 180 degree adjustment maximizes flexibility for use. 7-color atmosphere lighting effect suits your mood.
Save energy bill, built-in battery offers at least 4h lighting per full charge, USB port allows easy charging by computer, 5V/1A charger and power bank, safe for children.
More versatile and convenient with clock alarm, timer, birthday reminder and display screen showing time/date/temperature.
Adopting aluminum alloy heat sink, LED bulbs provide more than 6 years usage with 10 hours lighting per day. Each item sold by Adoric enjoys 12-month hassle-free warranty.
180° rotatable head, 140° swing arm, and rotatable base for your most comfortable position.
Vision friendly, full lighting coverage with no dark area, no ghosting, no glare.
4 Lighting Modes, 5 Levels of Brightness.
1 Hour Auto-Off Timer, 5V/2A USB Charging Port For Recharging Smart Phones.
Package contents: 1 x LED Desk Lamp; 1 x Lamp base; 1 x Adapter; 1 x User Manual. 1-year Warranty
Touch switches, third gear light intensity, humanized design, make your eyes in a comfortable environment
Unique curved guide plate, light and soft,The thinnest LED desk lamp on the market, portable design that is equally at home indoors and out.
Energy saving LED light source no radiation no flicker,eye partner,Lamp can be adjusted 360 degrees, user-friendly design,Low consumption and long lifespan, the battery can be cycle charged
Cycle charge LED lighting,Touch sensor switch,3-Level adjustable brightness,Free twisted tube
Simple and stylish, easy to operate, the full sense of the future of science and technology